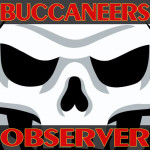 Podcast: Play in new window | Download
Subscribe: Apple Podcasts | Google Podcasts | Spotify | Stitcher | TuneIn | More
As we anticipate the start of free agency, Bucs news is fewer and further between. We go over what little tidbits there are in this episode.
=======================
Check out the new Magnus Rush app to listen to podcasts! It has Easy Actions, ratings, Voice Messages, Shout Outs, and Tips! Download it at the iOS App Store or Google Play Store now.
Leave a comment
Join us on Twitter
Visit our website
Send Molly an email at [email protected]
Email Ralph at [email protected]
GO BUCS!
========================