One of the things I love about Bruce Arians is that he's an open book. Literally. I mean, the man wrote a freakin' book. Typically, you get a new head coach that is all coach-speak and you spend hours watching film or reading between the lines of said coach-speak to really get a feel for their coaching style/philosophy. Not B.A. It's all right there in black and white.
He's been around the league and coached some of the best: Peyton Manning, Ben Roethlisberger, Andrew Luck. He's spent decades studying quarterbacks. For a short time, he was one. In fact, up until 2016 he held the record for single season rushing touchdowns by a quarterback at Virginia Tech – a record that Michael Vick was unable to overtake. In short: the man knows quarterbacks.
As I read all of about ten pages of The Quarterback Whisperer, and got to the point where B.A. outlines what he looks for in a quarterback, I wondered whether Jameis Winston had those characteristics. We know publicly B.A. has stated, unequivocally, Jameis Winston is our quarterback. But as Jameis enters the final year of his rookie contract, Bucs fans are left to ponder whether he'll be added to the long list of quarterbacks that either crash and burn with the Bucs or move on to bigger and better things (there has been, in our experience, no in-between).
There are three main characteristics B.A. looks for in his quarterbacks: will, grit, and brains.
Will is also described as 'heart' in the book. No matter what you call it, without a doubt, Jameis has it. "A big heart, a lion's heart, a heart that beats for an entire franchise. Heart is exhibited when a quarterback plays through pain, when he smashes into a 320-pound defensive lineman on third down to try to gain those extra six inches for the first down, or when he throws an interception and then runs forty yards down the field to make a tackle." We have example after example of Jameis doing any one of those things.
Like this: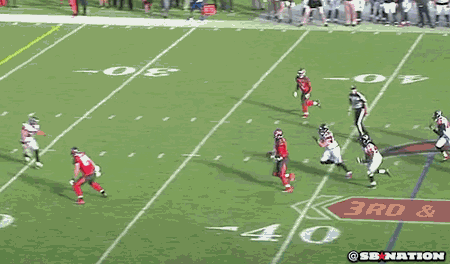 and this: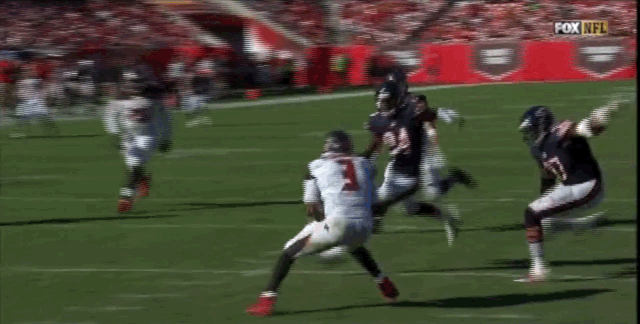 There was an Ira Kaufman podcast in the last month or so where the Joes and Ira discussed the impact of Jameis' suspension on the team. The consensus was that the team was mostly 'disappointed,' and indicated Jameis may have damaged the respect some of his teammates had for him. For some, perhaps the damage is irreparable. I have a feeling those individuals may no longer be in the building. But B.A. thinks respect can be earned through "displays of heart."
Heart: Check.
B.A. defines grit as a quarterback's ability to handle success and failure equally. Last season, Jameis endured an embarrassing public ordeal that culminated in a suspension, being benched and another losing season. And yet his resolve never wavered. Week in and week out, Jameis was the same Jameis. Perhaps a little more somber, but still as determined as ever.
"A called play in an NFL game only works about half the time. But what really matters is how the quarterback reacts to what transpires on each and every play. When a play doesn't go as designed, the quarterback must not sulk," ahem, Cam Newton, "lose his temper, or even convey a sense of frustration. And he sure better not let his grit waiver." 
Grit: Check.
Brains. This one's a toss-up. An NFL quarterback needs the "ability to process a vast amount of information in a short amount of time and make prudent decisions based on that intelligence."
B.A. writes: "I can't overemphasize how important it is to have a fast, fertile mind to play quarterback in the NFL. And also how important it is to have the study habits of an ivy league doctoral student."
On the one hand, we know Jameis studies the game. Koetter noted that Jameis consistently arrived at the facility before anyone else and recently Clyde Christensen said they have to essentially run Jameis out of the building. On the other hand, Jameis is also known for making boneheaded decisions during a game, and it's always clear the second the decision is too far gone for Jameis to take it back that he knows he done goofed.
Ralph noted consistently in game analysis last season that Jameis just does not read the field well and that was a large contributor to his mistakes. Of the three most important attributes of an NFL quarterback, it's this one that will make or break Jameis. The Quarterback Whisperer may be his only hope.
Brains: TBD
B.A. outlines other qualities that make an NFL quarterback. Timing. Leadership. Accuracy. Athleticism. Jameis checks all the boxes.
"Timing is everything in the NFL; if a quarterback doesn't have this skill – this one that really can't be taught – he won't last long in the league. An NFL QB either has this skill – this gift – or he doesn't. I'll take a quarterback with a great sense of timing any day over one with a big arm who struggles to make those rhythm throws."
Say what you want about Koetter, but because of him we know without a doubt that Jameis has this skill. And you can guarantee with the likes of Mike Evans and Chris Godwin on the roster, we're going to see it even more this year under B.A.'s system. 
Timing: Check.
We don't follow college football, so knew little of Jameis during the months leading up to his being drafted by the Bucs. However, his reputation as a leader preceded him. Of a leader, B.A. notes, "You can feel their presence when they walk into the room." I recall after Jameis returned to One Buc Place at the end of  his three-game suspension, multiple teammates noted that the energy was different at the facility. Some hadn't seen him at that point, but could feel his presence in the building. It's safe to say he checks that box.
Leadership: Check.
"The most important physical attribute of the ideal quarterback is the ability to throw the ball with accuracy to all parts of the field." There's no doubt Jameis had the benefit of the best receiving corp in the league last year, but likewise the receiving corp had the benefit of Jameis Winston. Bruce Arians values accuracy over a cannon of an arm. Jameis has an arm to be sure; you can't throw an eighty-yard completion without one. But he can also thread the needle.
Will he ever be Drew Brees-level accurate? Probably not. But he's absolutely in the top half of current NFL quarterbacks for accuracy.
Accuracy: Check.
According to Bruce Arians, a play called in the huddle works about 50 percent of the time. For that reason, NFL quarterbacks must be athletic enough to improvise during the times a play doesn't work. Jameis improvises with the best of them. He may look like a newborn baby gazelle when he's doing it, but he gets the job done. In 2018, he led the league in passer rating outside the pocket.
"Ben Roethlisberger has never been the quickest guy, but he can roll out and complete a throw with defenders hanging all over him. Damn, that's athleticism."
I'll just leave this here in case you didn't catch it the first time…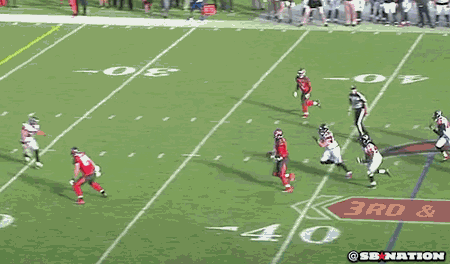 Athleticism: Check.
I've been on the fence about Jameis thus far: he's my quarterback, without question, but I know Tampa's history with quarterbacks and frankly I'm afraid to get too attached. That, coupled with Jameis's struggles last season, left me unsure about the future of Jameis (at least here in Tampa). But after reading Arians' criteria for an NFL quarterback, I was absolutely certain he was chomping at the bit to get his hands on Jameis Winston.
Jameis has the foundation of a successful NFL quarterback: the heart, the grit, the brains, timing, leadership, accuracy, athleticism. His decision-making needs some work, as do his mechanics, according to Bruce Arians. But, hey, that's why we've brought in the Quarterback Whisperer.