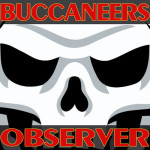 Podcast: Play in new window | Download
Subscribe: Apple Podcasts | Google Podcasts | Spotify | Stitcher | TuneIn | More
Donovan Smith was re-signed by the Buccaneers for a 3 year contract worth $41,250,000, including $27,000,000 guaranteed. That comes out to an average annual salary of $13,750,000. Is it worth it? Did the Bucs do the right thing? Molly and Ralph discuss it as well as other Bucs news.
=======================
Check out the new Magnus Rush app to listen to podcasts! It has Easy Actions, ratings, Voice Messages, Shout Outs, and Tips! Download it at the iOS App Store or Google Play Store now.
Leave a comment
Join us on Twitter
Visit our website
Send Molly an email at [email protected]
Email Ralph at [email protected]
GO BUCS!
========================