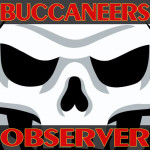 Podcast: Play in new window | Download
Subscribe: Apple Podcasts | Google Podcasts | Spotify | Stitcher | TuneIn | More
GM Jason Licht and Coach Bruce Arians both gave pressers at the combine. What did we learn new about the team? Molly and Ralph go over their thoughts. Plus we talk about other Bucs news and dabble a bit in Rub-and-tug-gate starring Robert Kraft.
=======================
Check out the new Magnus Rush app to listen to podcasts! It has Easy Actions, ratings, Voice Messages, Shout Outs, and Tips! Download it at the iOS App Store or Google Play Store now!
Leave a comment
Join us on Twitter
Visit our website
Send Molly an email at [email protected]
Email Ralph at [email protected]
GO BUCS!
========================